---
Diving with Galapagos Shark Diving means diving in paradise and supporting shark conservation at the same time. For every diver traveling with us Galapagos Shark Diving donates to the Galapagos research project, the "Galapagos Whale Shark Project". Additionally, all profits made by the company will be donated at the end of the year to the research project to support marine conservation in the Galapagos Islands.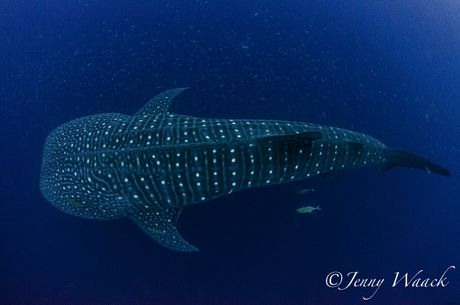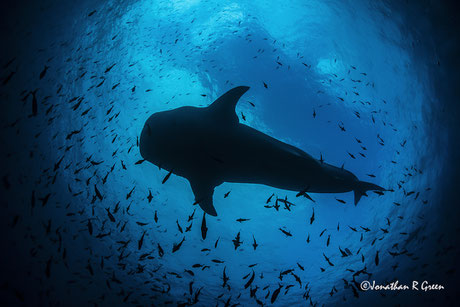 This year 2022 we managed to donate 16,000 USD to the project. That allows the research team to buy two satellite tags including satellite time, blood kits and a bit of boat time! That is fantastic! These satellite tags will give the researchers information about the migration routes of whale sharks, how is their dive behavior and even information if it comes of due to accidents with fisheries. This data is crucial for discussions and fight for more protected marine areas. And all our divers supported exactly that.
Every diver on board our Shark Conservation Dive Trips (July - September) get the opportunity to submit a whale shark name to name as many whale sharks as we can effort to buy tags. 
---
This year the winners are...
---
OLIVIA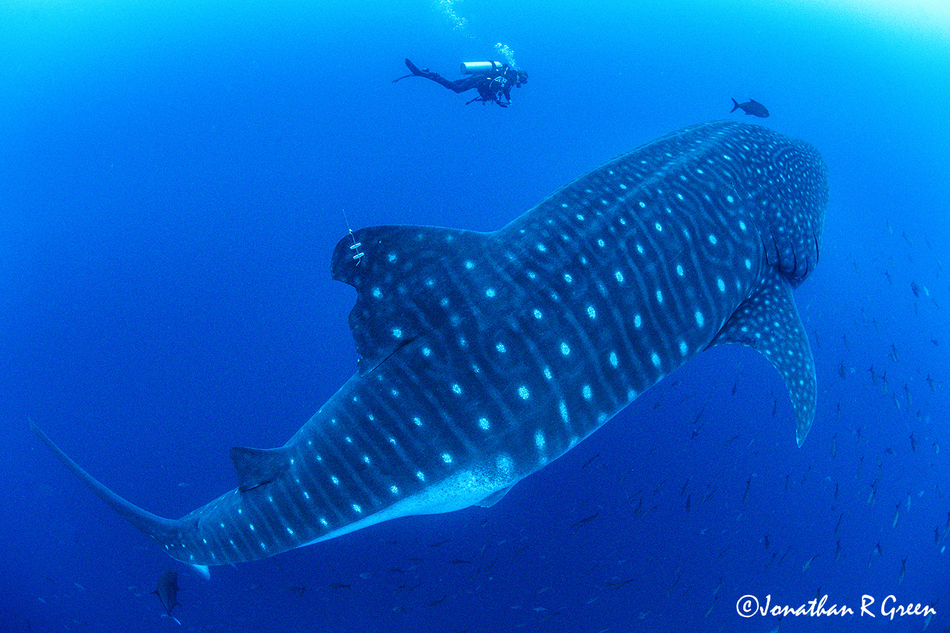 Meet Olivia! This whale Shark was tagged with satellite tag #234736. She was tagged on 09 July 2022 by shark scientist Sofia Green, is around 11 meters long and had a big bite in her dorsal fin.
Olivia is reporting very regularly and her track is very interesting. She headed directly south from Darwin and is still continuing to travel south west. Her last signal was on the 25 November 2021. Where is she off to next?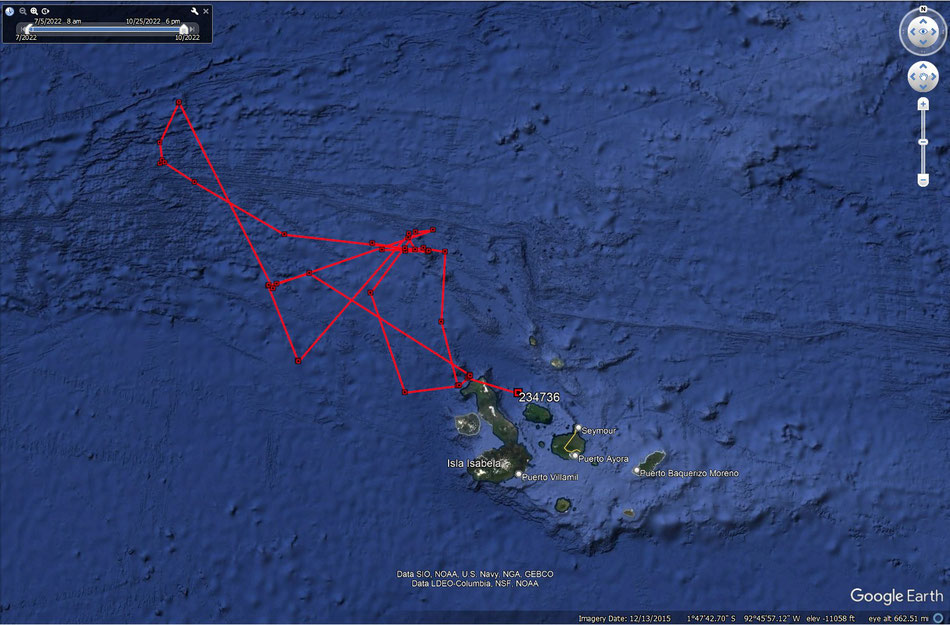 ---
ELISE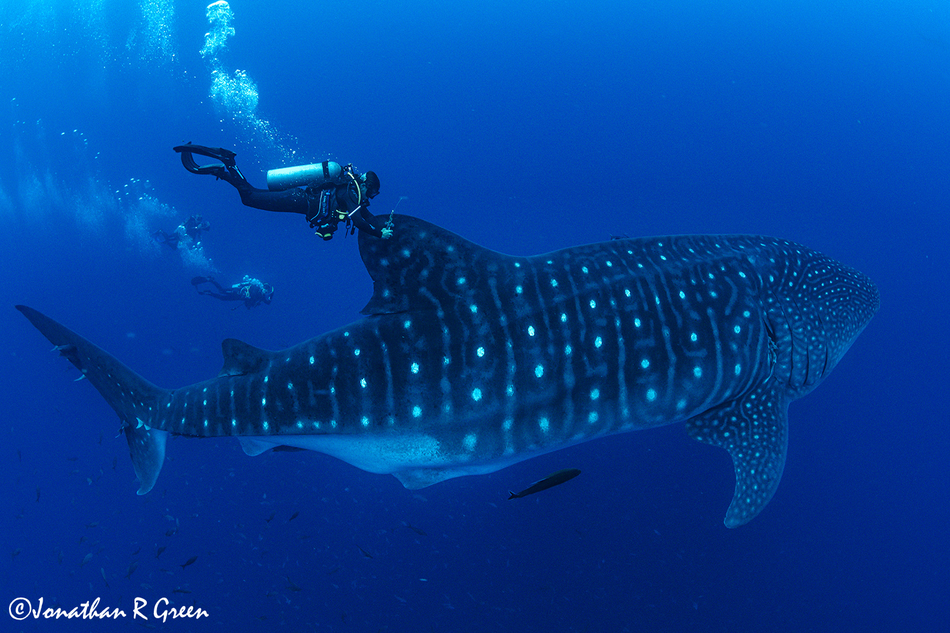 This is Elise. Whale Shark Elise was tagged with a satellite tag #234740.
Tagged on the 8th July, 2022, this beautiful mega whale shark has travelled widely, covering around 3500nm (6500km). Elise last surfaced and transmitted on the 2nd February, 2023, more than 6 months. HOWEVER she is now in the "Peruda Triangle" where so many of our big females have DISAPPEARED WITHOUT TRACE. Will she turn north and back to the sanctuary of the Galapagos Marine Reserve?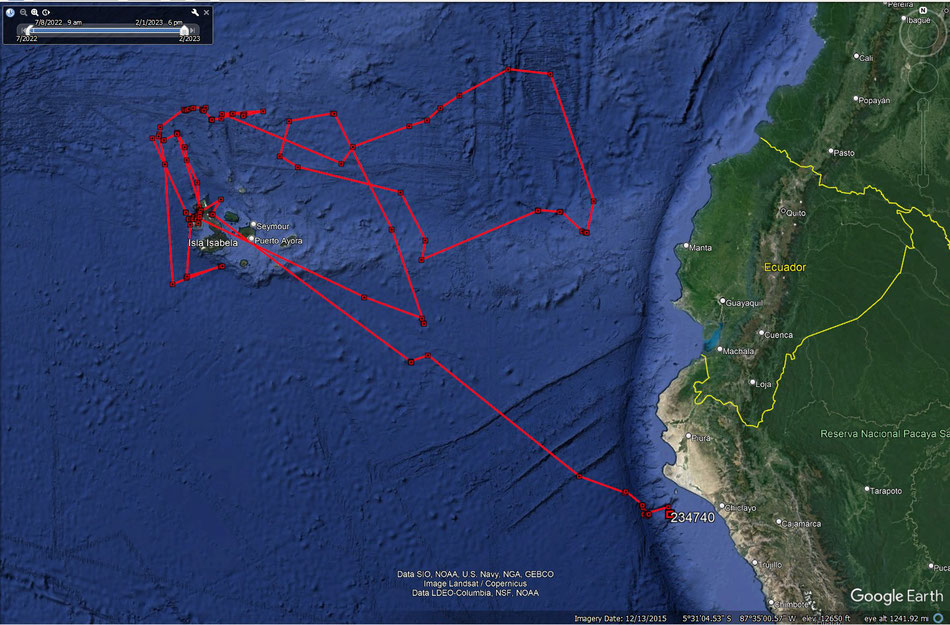 ---
Galapagos Whale Shark Project
---
With a massive decline of their population, with a greater than 50% drop in the last 75 years, the whale shark is categorized as Endangered under the IUCN red list. This, along with its environmental and economic value, makes it a high priority species to protect. However, implementation of proper management strategies and mitigation of impact can only come from understanding a species habitat use, movement patterns, the environmental patterns that influence these movements and the areas most important for its life cycle.
The Galapagos Whale Shark Project (GWSP) aims to understand the natural history of the whale shark, a species barely understood, but of high importance for ocean health and for coastal communities' economy. The project began in 2011 and has since been satellite tracking whale sharks to understand their movement patterns and behaviour. Recently the project has also begun taking ultrasounds, blood samples, and tissue samples to further understand the life history strategies of this shark and uncover where they are reproducing, giving birth, feeding, and to discover further about their genetics.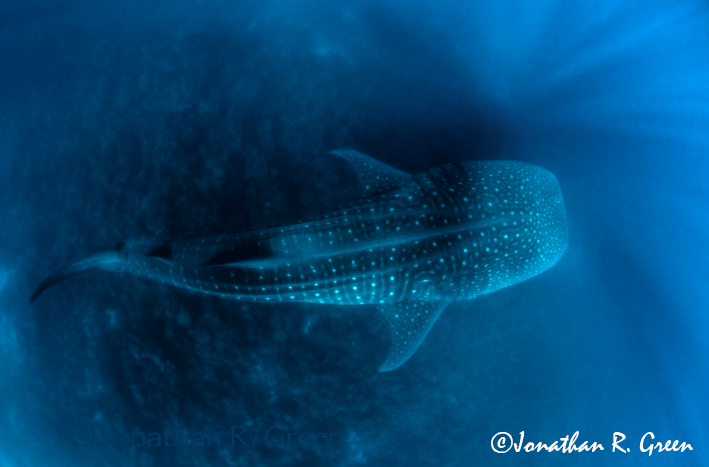 The project aims to protect this species from population decline or future extinction. Through the understanding of how they use the world's oceans, identifying aggregation sites and the most important areas for their reproduction and birthing, we can use this data for the creation of new MPAs or the expansion of already existing ones, and work towards the implementation of better management practices to ensure their long term conservation.
It is important to note that the population of whale sharks that transit through the Galapagos Islands yearly between June-November are a unique group worldwide since 99% of the individuals sighted are adult female whale sharks (average: 9-14 meters long), a demographic not recorded anywhere else in the world. The Galapagos Archipelago is the only place worldwide in which over 90% of sightings are of adult females. The possibility exists that the whale sharks in the Galápagos may be coming to give birth on the mid oceanic platform or the surrounding waters. For these reasons a deeper understanding and in-depth study of this population is crucial if we are to implement protective measures in the Eastern Tropical Pacific; research that will benefit not only the subject of our study but all species that live and reproduce in this area of high biodiversity.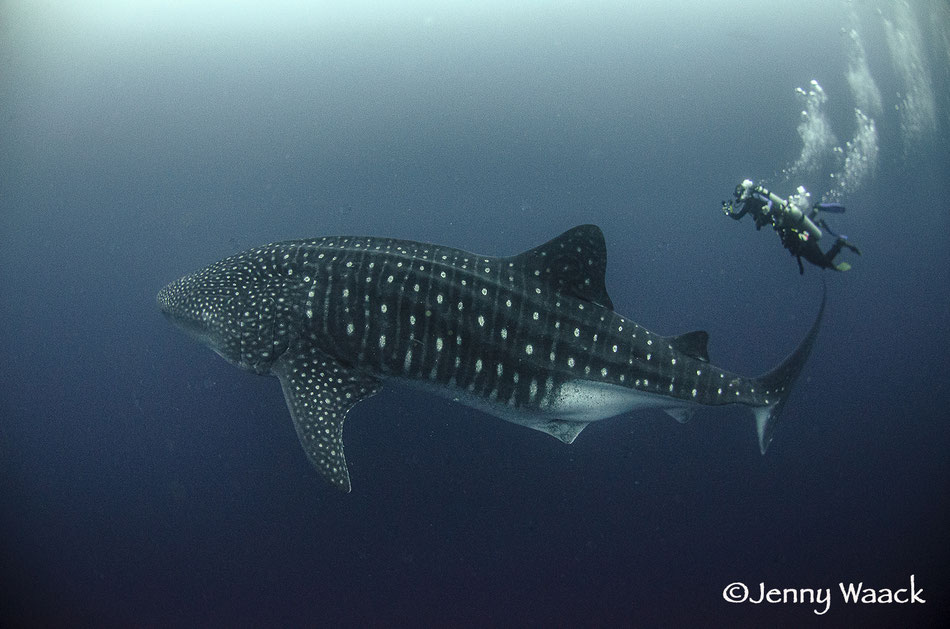 ---
HOW CAN YOU SUPPORT SHARK CONSERVATION?
You can share this email with your friends, you can talk about it and raise awareness, you can travel with us - learn how you can directly support research and shark conservation and you can donate directly to the Galapagos Whale Shark Project. Become a Shark Ambassador yourself and support the effort for a healthier ocean that we all need!
If you have further questions please do not hesitate to contact us. You can reach us at info@galapagossharkdiving.com. We are happy to assist you in any question you might have.