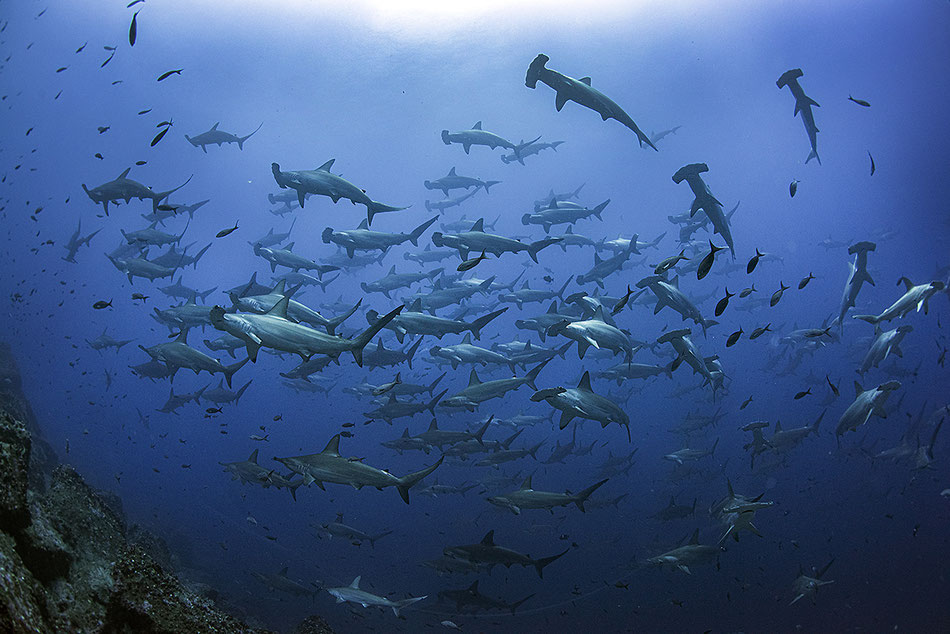 ZuBlu combines tourism and citizen science so their guests can explore AND restore the Galapagos Islands, one of the world's most protected marine parks
ZuBlu talked with the founder of Galapagos Shark Diving, Jenny Waack, about her eco-tourism organisation. They combine tourism and citizen science so their guests can explore AND restore the Galapagos Islands, one of the world's most protected marine parks. 
Read the Ecoventure Interview to learn more about Jenny's job and how you can get involved...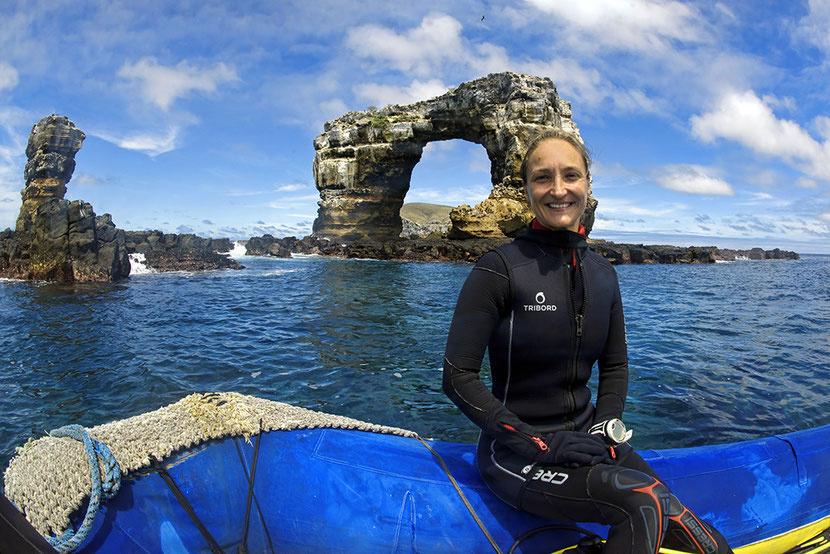 Briefly describe your organization and your role:
Galapagos Shark Diving offers dive trips to the Galapagos Islands and other top destinations in combination with support for marine conservation. We believe every diver can contribute to marine conservation and research – no science background needed! Shark scientists from the Galapagos Whale Shark Project accompany each trip and share their extensive knowledge.
I am the founder of Galapagos Shark Diving. I plan the organisation's growth and connect the operational with the scientific aspects of each trip. I'm very hands-on involved in every excursion, from planning and communicating with our passengers to making sure everything is perfectly taken care of during the trip.
When did your organisation launch and what inspired the concept and conservation strategy?
It all started in 2016, when I took a sabbatical year from my work at the bank and went to travel the world. Amongst many beautiful stops on the journey, fate brought me to join a liveaboard in the Galapagos Islands. When you see the incredible beauty of the underwater world of such a magical place, it is hard not to fall in love with it – and I completely did! It became clear to see how little we humans do to protect this magic but instead keep destroying it.
I felt a deep wish to do whatever was in my power in order to contribute to conserving our oceans. So as a first step, I became involved with the Galapagos Whale Shark Project assisting with their communications, website and social media – and in exchange gained a lot of knowledge about whale sharks and marine protection. I realized it doesn't take a degree in marine biology to contribute and I wanted to give other divers a starting point to become engaged in conservation. Each and every one of us can make a difference!
In 2017 Galapagos Shark Diving was born! With shark scientists on each of our trips, we show divers how to collect data for research that leads to a better understanding of the species and their ecology and can be used to further marine protection and even create Marine Protected Areas. Our participants fly home with a deeper understanding of the marine environment and the great feeling of giving something back to the oceans we all love so much!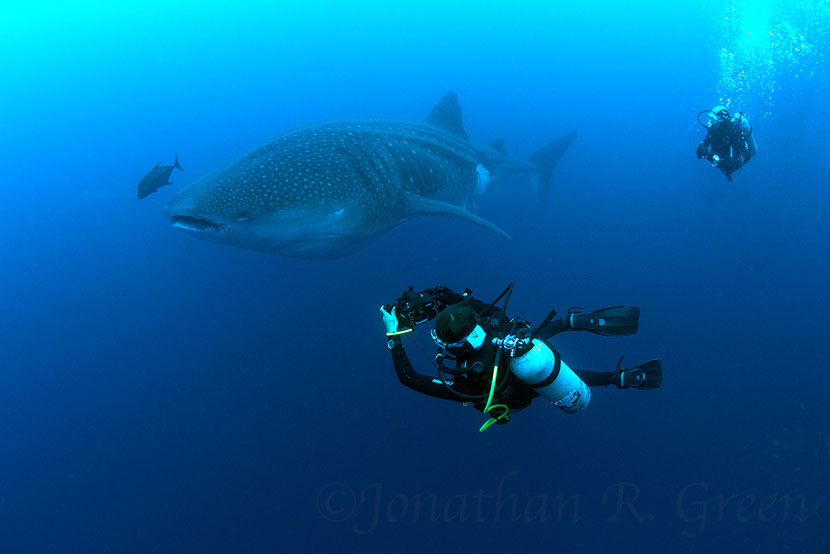 What is the most significant change from when your organisation first opened to what it is today?
We started in 2017 on a very small scale, with just a few trips per year and were able to add more and more trips every year – we now even also offer the Cocos Islands besides Galapagos. This is thanks to our loyal customers spreading the word about us! And for each diver we donate to the Galapagos Whale Shark Project, so the donation amount has grown tremendously increasing the amount of field work that can be undertaken each year.
Recently, we see our trips are starting to change the mindset some of the liveaboard operators in the Islands. The vessel we are working with has now switched to using metal bottles instead of plastic, (we used to have to provide the metal bottles for our guests) and is planning to contribute a percentage of their profit to research organisations – something other operators are also following!
I believe we can open the eyes of dive companies who begin to comprehend the impact of their activities on the oceans and see that there is an increasing demand from tourists for sustainable eco travel.
Significantly, the Galapagos Marine Reserve was recently extended by the government of Ecuador after years of work by conservation organisations - including the Galapagos Whale Shark Project using the very kind of data collected with the help of our divers.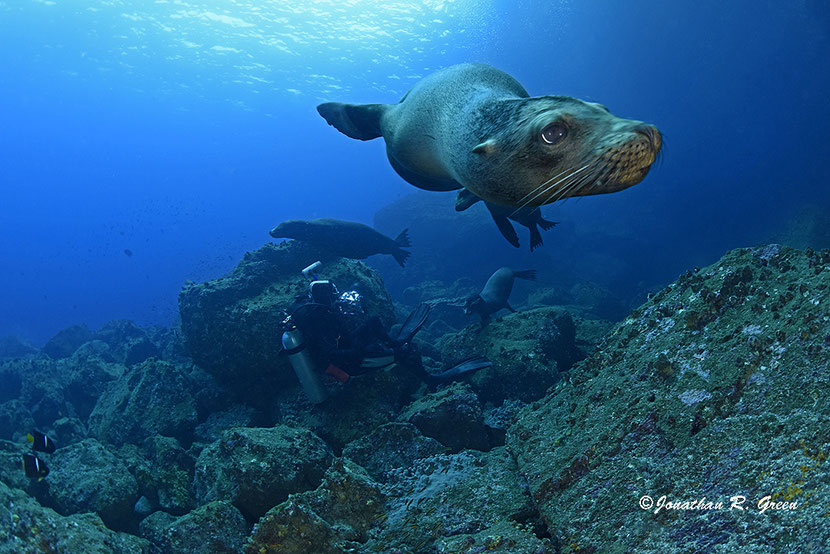 What is the most rewarding part of your job?
The shining eyes of our divers when they see their first huge school of hammerhead sharks, whale sharks and giant mantas - when they begin to relate, get emotionally involved and start to ask questions. It is very rewarding to see how the desire to help with protecting the ocean and marine life becomes a vested interest. Some of our guests have even decided to join conservation organisations or study marine biology after one of our trips!
On a broader level it makes me incredibly happy to see that more and more people want to travel responsibly, and the mindset is changing. People now take a closer look at the dive operators they choose to travel with and start to have an awareness of the ecological impact their travel choices have on the oceans – taking part in fostering that change and being a pioneer for sustainable, educational dive travel is amazing.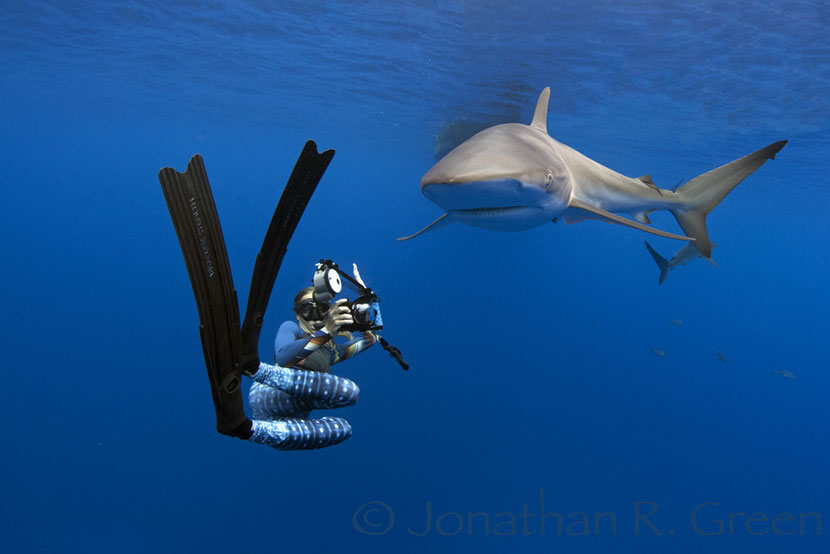 Share with us one of the most exciting moments at your organisation.
When diving in a place like the Galapagos Islands, no two days are the same and the experience never tires!
When plunging into the clear waters of for example Darwin's Arch, early in the morning for the first dive of the day, it's like exchanging Planet Earth for Planet Blue. 
In a kingdom surrounded by an enormous diversity of species, the rulers are the apex predators - sharks. Life exists at every level from the microscopic to megafauna. The highlight is when you encounter one of the whale sharks that frequent the Galapagos Islands. Even divers who have seen whale sharks in other destinations are captivated by the gigantic size of the adult females that we find here. It's hard to put the feeling of seeing these giants up close into words, but one thing is for sure: These are memories that no diver will ever forget.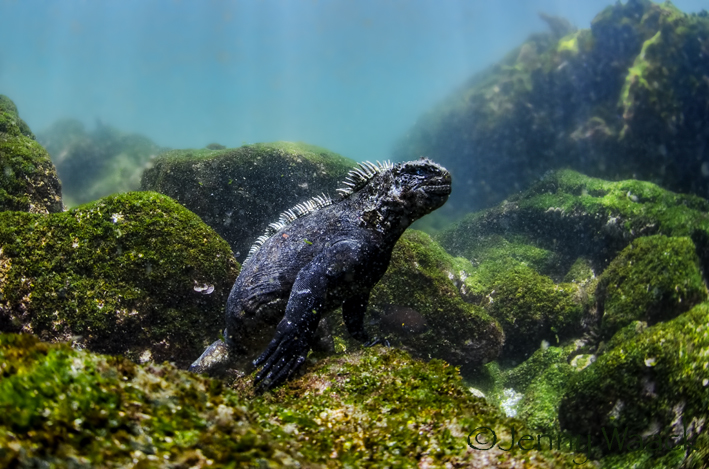 What are 3 things that make your project unique?
First of all, diving the Galapagos Islands in itself is a unique and intense experience that every diver should have at least once in their life. The life forms are incredibly diverse and for any diver that loves sharks it is a must-see! 
Secondly, with Galapagos Shark Diving you have expert shark scientists sharing their local knowledge and experience also helping you as a diver see how you can support the conservation of sharks and other marine life. You will become a shark ambassador – no scientific background necessary!
 When travelling with us you choose positive impact dive travel, giving back to the oceans. Not only do we have the highest standards for ecological sustainability and responsible dive ethics but also make a direct monetary donation to Galapagos marine research.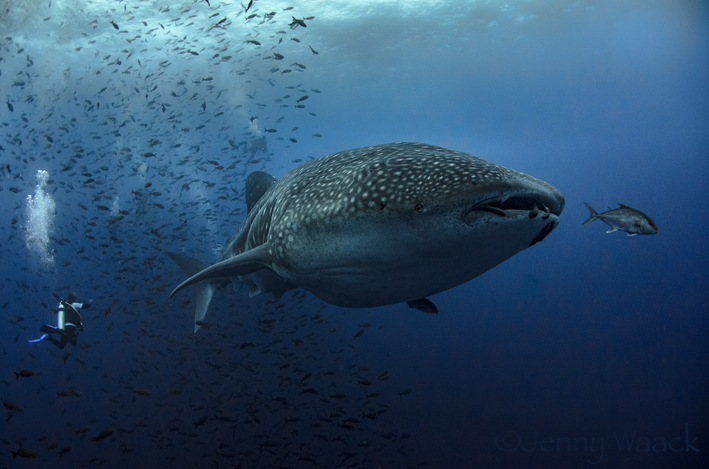 Why is it so important for divers to join your project?
With threats through fishing and pollution, many marine species face extinction. The whale shark is now classified as Endangered on the IUCN Redlist! We can only change this by protecting the areas that are key for their survival, namely breeding, birthing, and foraging for the adults and juveniles. Research and baseline data are needed to identify where these areas are and be able to create the management policies and legislation so urgently needed to provide governments with the tools to create MPAs.
The Galapagos Islands and surrounding waters may very well be one of these key locations where adult female whale sharks give birth. Divers on our trips learn how to contribute to the necessary research and their collected data supports the science used for management policy and conservation.
With the knowledge learnt on board the ship our divers will travel with more open eyes to their next dive destination and can make a difference wherever they travel.
What is the most important thing for your participants to know before they start your programme?
They need to be prepared for a WOW-experience! The Galapagos underwater world boasts a diversity of life like no other on earth, you will really only believe it when you see it! Diving with us will give you the once-in-a-lifetime opportunity to experience marine life seen typically in the Galapagos – such as observing marine iguanas feeding underwater or watching hundreds of schooling hammerhead sharks swim by or even penguins hunting baitfish!
Formally, we require our divers to be at least 15 years old with 50 dives and an AOW certificate.
The trip will be 8 days on board a great vessel which offers everything you might need. We visit a different dive spot each day, focusing on encountering all the different species Galapagos is famous for! We have 2 dive masters plus additional 1-2 shark scientists on board who are also qualified dive masters providing a higher level of flexibility and safety. You'll have full board accommodation and can participate in discussion and interesting lectures every day where you can get the answers to all your questions.
We will teach you and give you the opportunity to help collect data about marine megafauna for photo ID and population studies. This way you get an exciting maybe once in a lifetime dive experience and at the same time help scientists that are fighting to save our oceans and to protect endangered species.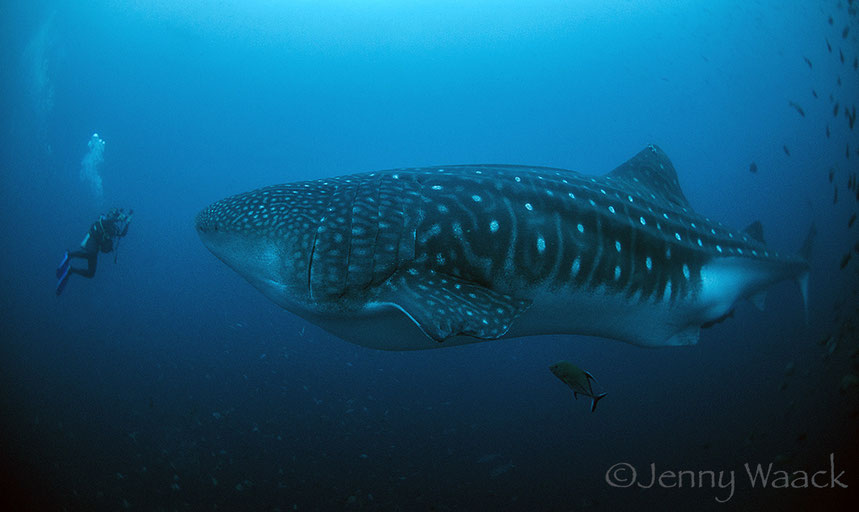 Tell us about your favorite underwater experience!
I had my personal eye-opening experience on the first research trip I joined. We were at Darwin's Arch in the water, looking out for whale sharks. I heard an underwater shaker that we use to indicate when one is sighted so I knew there had to be a whale shark somewhere, but I could not see it. Then I turned around – and looked right into her eye. 
In that moment, it was as if time stood still. I forgot to breathe. She was so huge and still so graceful and majestic and it was right then and there that I completely fell in love with whale sharks. I felt deep gratitude to be able to be there in her environment and to share that moment with her. It was a life changing experience that made me decide to dedicate my life to the protection of this incredible species and I hope for every diver to be able to feel the same!