Whale Sharks are Currently Listed as Endangered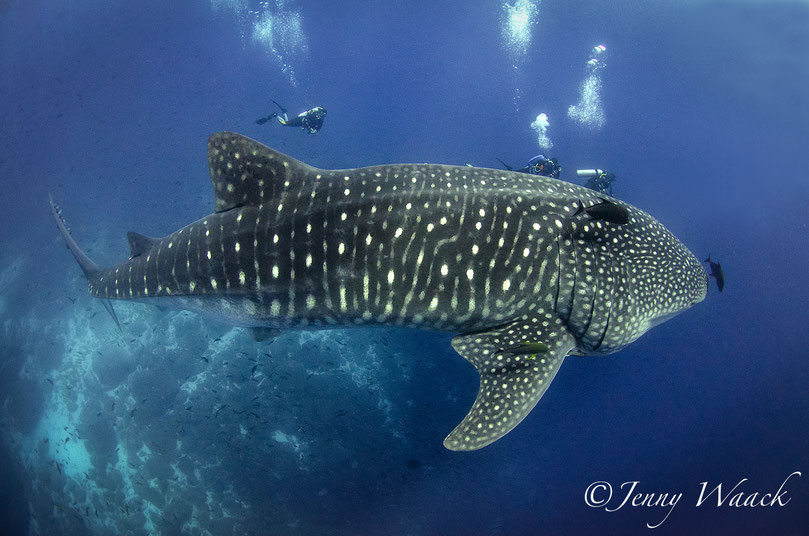 The Whale Shark is currently listed as endangered on the IUCN red list as its global population has declined
over 50% in the last 75 years
due to anthropogenic impacts such as objective and incidental fisheries, vessel strikes, and marine pollution such as plastics and oil. The world's largest fish is facing a big number of threats.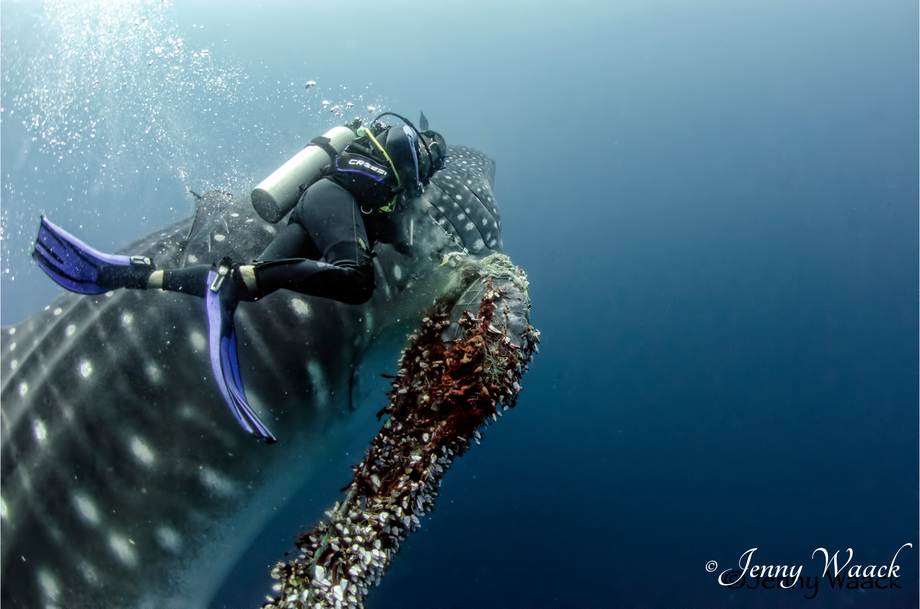 On a Shark Conservation Dive Liveaboard with Galapagos Shark Diving, Jonathan R Green (shark scientist and founder of shark research project 'Galapagos Whale Shark Project') frees a massive female whale shark from a large fishing net that was wrapped around its fin. The net already cut deep into the flesh of the whale shark and would have "cut off" the whale shark's fin over time. The whale shark was bleeding and very visibly hurt. After cutting off the net she was so relieved that she came back to have a closer look at the diver.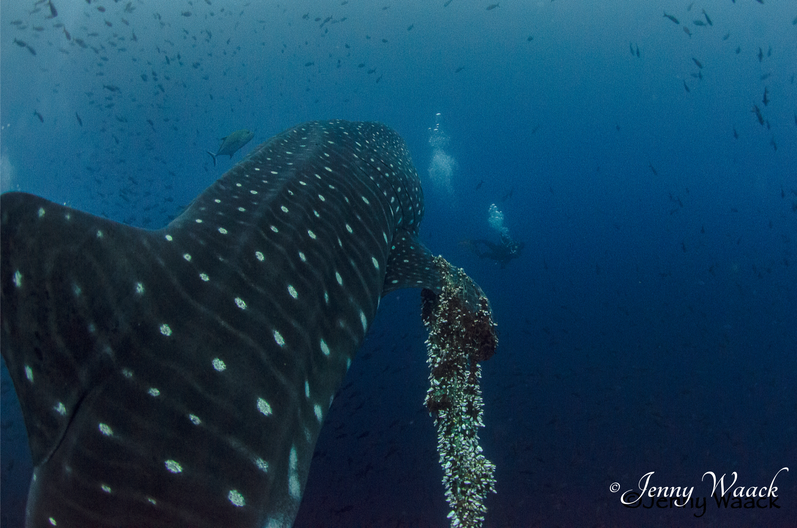 The conservation these endangered giants is relevant to the well-being of people and the health of the marine world alike. The ecological role of the whale shark has not been studied with much detail, yet some research has shed light on the role they play in the oceans. The whale shark is known to travel incredibly long distances, and while doing so serve as vectors for the transport nutrients from high productive waters into less productive, usually more pelagic, waters through their waste. Diving movements from shallow waters and into the depths also serve for nutrient transportation as have been shown with other deep diving megafauna, creating bursts of productivity in ocean areas that would otherwise be nutrient and consequently biodiversity deficient.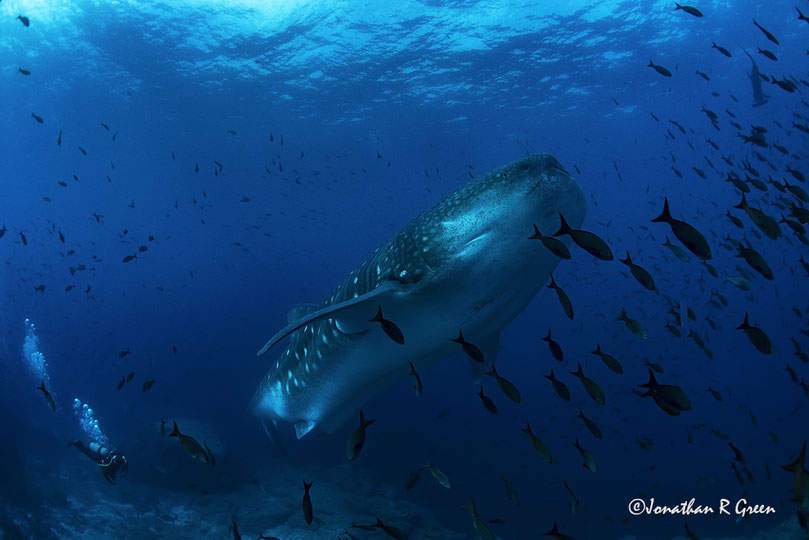 As large, transoceanic megafauna, whale sharks probably serve a similar purpose as do whales in what is known as the "whale pump", helping reduce CO2 levels and storing "blue carbon", which may have an important impact on climate change. Furthermore, whale sharks are a large source of carbon, and when they die, it has been suggested they play the same role as a "whale fall" where the body of the dead whale sinks into the bottom of the ocean and for the several decades it may take to decompose, serves as food for deep sea organisms and removes a large amount of carbon from the atmosphere for centuries.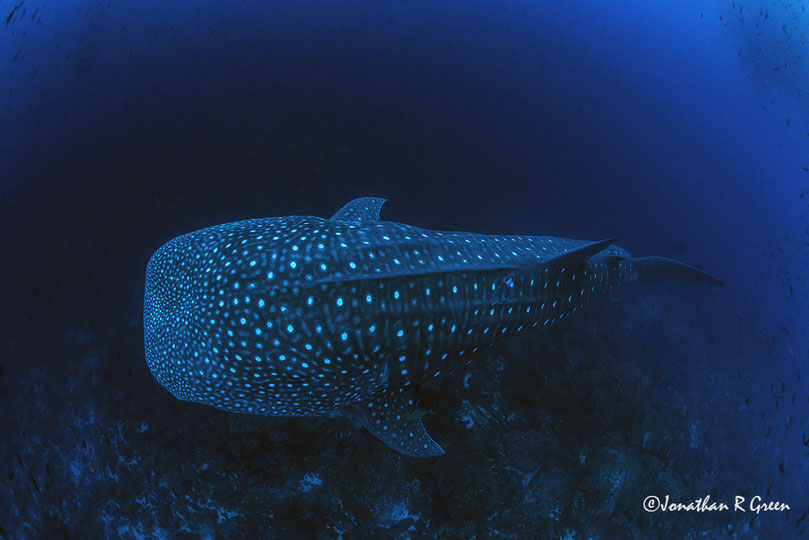 Furthermore, by protecting the whale shark and the important areas for its life cycle, many other species, which share the same ocean areas are protected under its massive fins. 
It is important to protect this species from population decline or future extinction. Through the understanding of how they use the world's oceans, identifying aggregation sites and the most important areas for their reproduction and birthing, we can use this data for the creation of new marine protected areas (MPAs) or the expansion of already existing ones, and work towards the implementation of better management practices to ensure their long term conservation. 
For every diver traveling on our Galapagos Shark Conservation Dive Trips, Galapagos Shark Diving donates to the Galapagos research project, the "Galapagos Whale Shark Project". Additionally, all profits made by our company are donated at the end of the year to the research project to support marine conservation in the Galapagos Islands. On our Shark Conservation Dive Trips we teach divers how to participate in 'Citizen Science' programs that collect data that furthers our understanding of whale sharks and other marine wildlife and that helps us to promote conservation through education and awareness. For more details about our Shark Conservation trips, CLICK HERE or email us at info@galapagossharkdiving.com.