Citizen Science in Action: Galapagos Shark Diving's Approach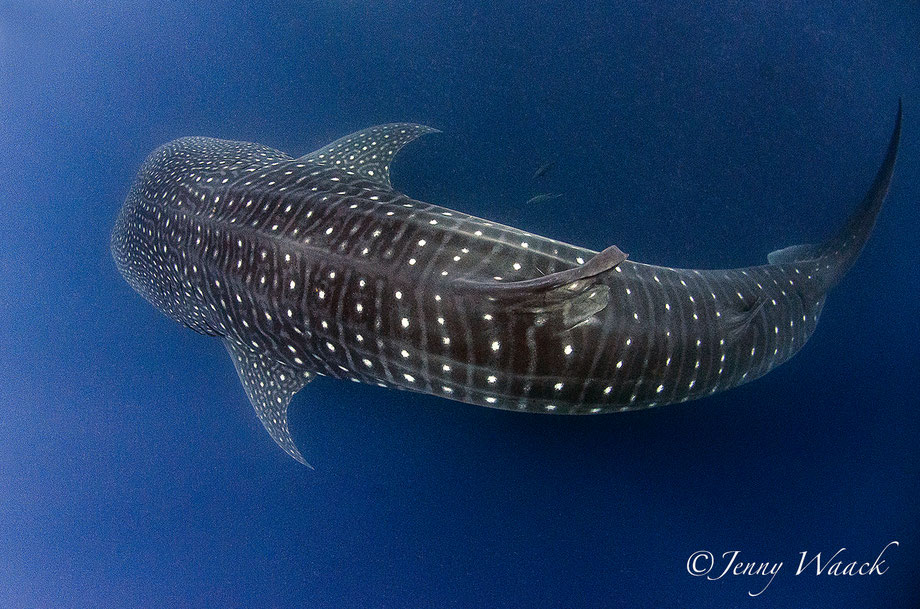 "In the end we will conserve only what we love;
we will love only what we understand;
and we will understand only what we are taught."
(Baba Dioum)
Importance of Data for Marine Conservation
---
This quote highlights the important role that data plays in marine conservation. Governments decide which areas are established as national parks, reserves, and protected areas. To select which areas are to be designated as protected areas, governments rely on scientific data that show the importance of the area for wildlife.
Every year millions of sharks are killed for their fins or caught as "bycatch" like much other marine wildlife like manta rays, turtles, and sea lions amongst others. One way to ensure that a species may survive is to protect those areas key for their reproduction (mating, birthing, etc.). Presently, only 5% of the world's oceans are truly protected! Furthermore, we don't yet know precisely the areas where for example, whale sharks give birth or mate! In order to ensure that these gentle giants will not go extinct we need to identify such areas and create marine reserves and sanctuaries, in order to halt the population decline further. The Galapagos Islands could be one of the key locations where adult female whale sharks give birth and is already recognized as a vital nursery for other shark species in the Eastern Tropical Pacific Region.
This is why we started offering our Galapagos Shark Conservation Dive Trips. For every diver traveling with us, Galapagos Shark Diving donates to the Galapagos research project, the "Galapagos Whale Shark Project". Additionally, all profits made by our company are donated at the end of the year to the research project to support marine conservation in the Galapagos Islands. On our Shark Conservation Dive Trips we collect data that furthers our understanding of whale sharks and other marine wildlife and that helps us to promote conservation through education and awareness.
Presently, only 5% of the world's oceans
are truly protected!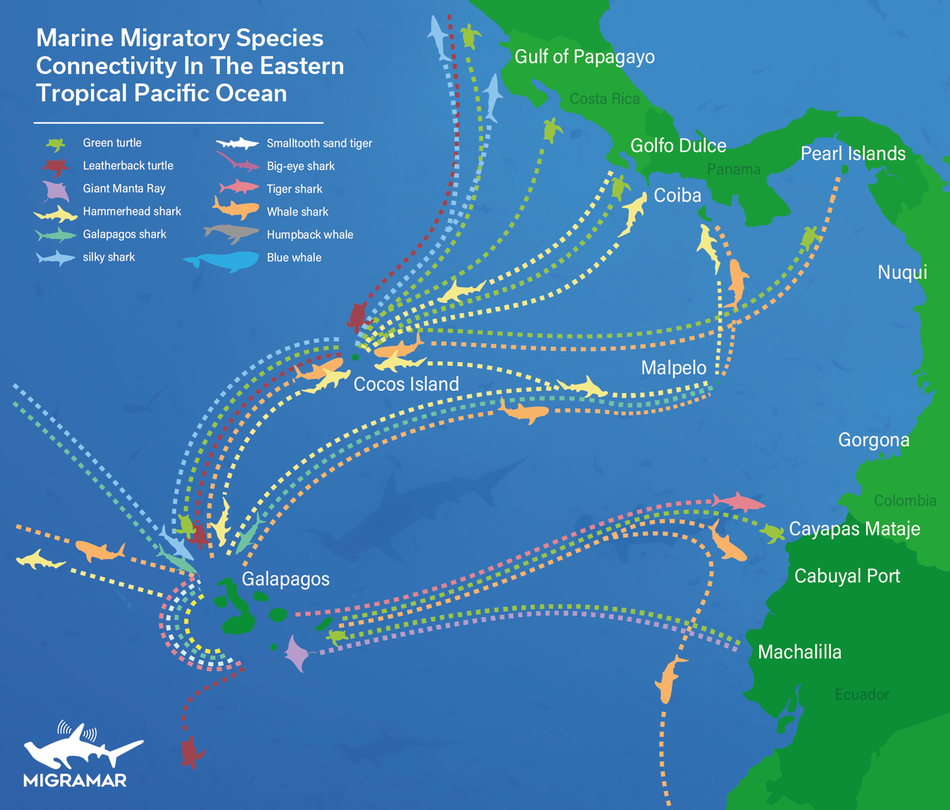 An Example of Data Leading to Governmental Action
---
The creation of the Galapagos Marine Reserve, (GMR) in 1998 heralded a new era and level of protection and conservation for the waters surrounding this iconic archipelago. Many of the species found here are endemic or unique to the Galapagos. However most of the pelagic species, sharks, rays, turtles and marine mammals do not remain within the protected area and are highly migratory, literally crossing the oceans.
In 2005 the Galapagos Whale Shark Project was initiated in order to study the local and regional movements of whale sharks, Rhincodon typus, a species known to move extensively in the marine environment, both vertically and geographically.
Data from satellite tags showed graphically just how far these sharks are travelling and how much of their time is spent in unprotected waters, exposed to the risks of industrial fisheries, vessel collision and plastic pollution. Their tracks also showed a high level of connectivity with other geographical areas and island ecosystems such as the Cocos National Park of Costa Rica, considered another biodiverse marine hotspot of our planet.
Data from similar studies, that included many other pelagic species also confirmed the importance of a marine corridor, or "Swimway" that exists between Galapagos and Cocos and that in order to provide further protection to these species, this area was identified as one of high priority for conservation by scientists and marine conservation organizations. Also data coming from different "Citizen Science Projects" are used by research projects.
In October of 2021, the combined data was presented to the governments of Ecuador and Costa Rica and the Presidents of the two nations declared the Swimway a Marine Protected Area, effectively creating a conservation area of 120,000km2 (75,000 sq. miles) and providing an extension of the Galapagos Marine Reserve. To learn more about the Extension of the Galapagos Marine Reserve check out our blog post. 
When scientists, marine conservation groups, and citizen scientists collaborate, it can lead to real-world outcomes like the protection of our beloved oceans. This is a prime illustration of such a collaborative effort.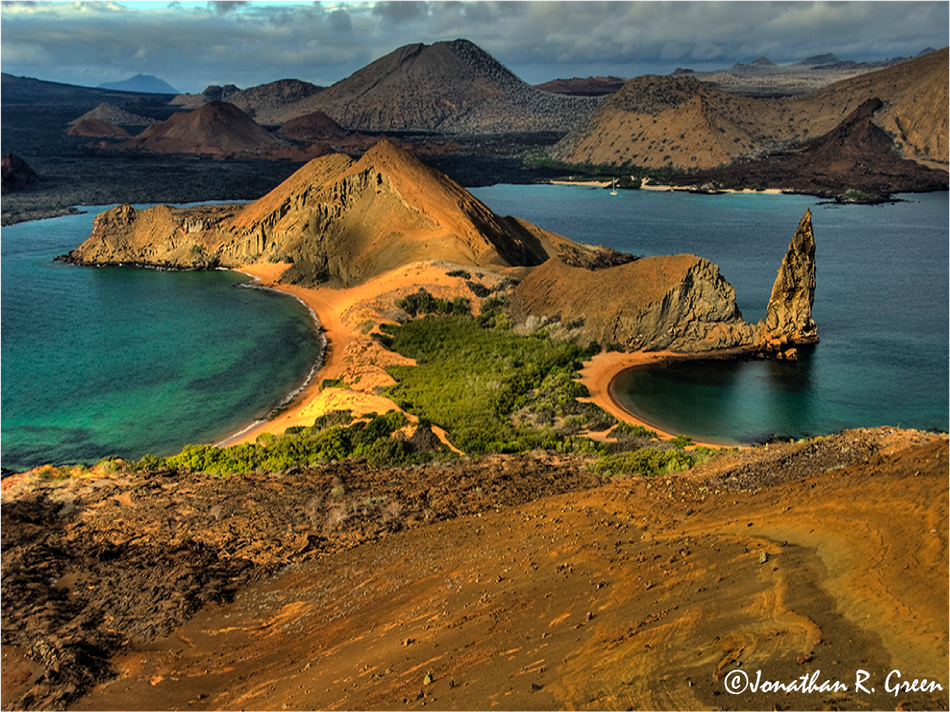 What YOU can do to support - Citizen Science Projects!
---
What YOU can do to support? One of the answers are Citizen Science Projects. Citizen science is the collection of data relating to the natural world by members of the general public, usually as part of a collaborative project with professional scientists. With other words YOU as an individual collect data which is very useful for researcher to use and analyze. 
Many different "citizen science programs" exist in which anyone can participate and become a part of marine conservation themself – no scientific experience needed! For example, photo identification programs are not just about submitting a photo. Different platforms track different animals throughout our world's oceans. We believe that if everyone (naturalists, passengers, guides, divers and snorkelers) contribute and collaborate, this would be vital to our better understanding of the oceans and marine life.
Due to the challenging condition of our world and the destruction of our natural habitats, we aim to enable every individual to feel empowered to make a positive impact. 
ALL of us can be citizen scientists and contribute to supporting conservation efforts. A scientist can only be in one place at one time. By harnessing the power of millions of ambassadors, we can expand the scientific knowledge exponentially while supporting the conservation of marine wildlife.
Photo Identification Programs
---
As part of our Citizen Science activities, we encourage all divers who take part in our Dive Conservation Liveaboards to participate in photo identification programs while on board. Continue reading to discover more about these programs. 
Important: For all photo programs, please set your camera to the local time. When submitting the photo please include date, local time and location along with the photo if possible. Photos that include this information provide more scientific data. 
Wildbook for Sharks
- 
Whale Shark Identification
Galapagos is one of the few places where you will find 99 % female adult whale sharks. That makes it even more important to upload your photos from here. 
The Wildbook for Whale Sharks photo-identification library is a visual database of whale shark encounters and of individually catalogued whale sharks. The library is maintained and used by marine biologists to collect and analyze whale shark sighting data to learn more about these amazing creatures. This Identification program is for all over the world. If you see a whale shark while diving, summit your photo!
Each whale shark has an individual fingerprint: the pattern of spots behind the gills on the left or right sides.
The Wildbook uses photographs of this skin patterning behind the gills of each shark, and any scars, to distinguish between individual animals. Summit your photo now: www.sharkbook.ai
Proyecto Tortuga Negra (Galapagos Black Turtle Project) - 

Turtle Identification
The Galapagos Green Sea Turtle is only commonly seen in a few places in the world, including Galapagos.
With this program you will be contributing to a better understanding of their populations, movements in the region and collaborating with their conservation.
The method of photo identification in sea turtles is an innovative recognition and control system. It is based on the photographic analysis of the pattern of cephalic scales, unique to each  individual, as if it were a human fingerprint. It is a non-invasive, economical, permanent system, unique to each individual and that allows any individual to be studied regardless of sex or age. The principle is comparable to a human fingerprint.
Photo: Right side of the face and if possible also the left side. Photographs as parallel as possible to the turtle face and without obstructions like light reflection or murky water. It is not necessary to get very close or touch the animals and please include date and location where the animal was spotted if possible. 
Summit your photo by emailing it to: tnggsc@gmail.com!
Happy Whale - M

arine Mammal Identification
Happy Whale engages citizen scientists to identify individual marine mammals, for fun and for science.
For science, unique identifiable markings on a whale's flukes (tail) and dorsal fin allow them to non-invasively track whale movements and stories over time. By focusing on whales, they bring attention to the marine ecosystem as a whole and the challenges we face as a global community.
First, review our instructions on how to take whale ID photos. Next, get out there and photograph whales. Last, submit your whale photos at happywhale.com. We'll run your images through our ID system built in collaboration with scientists at Cascadia Research Collective and Allied Whale. If we find a match, we'll tell you what we know about your whale. If you are the first Happywhale contributor to see a whale, congratulations! We'll let you know that too.
We welcome you to submit images from past whale sightings. Submitting older photos is a great way to start building your account and will give us valuable historical data on whales.
As each of your whales is spotted around the world, we'll send you updates. You can track your whales on your personal Happywhale page. As our site and functionality grows, you'll be able to stay in touch with team members around the globe. You'll also discover how your data is being used by scientists. What stories will your photos tell?
This wildlife identification science depends on image and video submissions from users like you. You submit photos your photos here: www.happywhale.com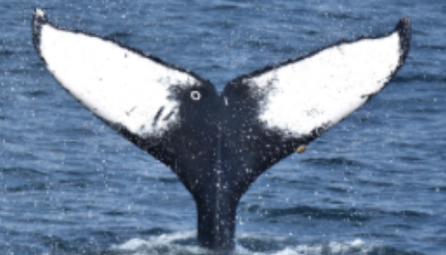 Photo ©www.happywhale.com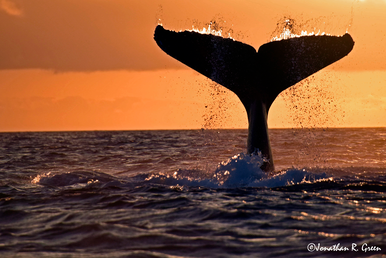 Manta Trust - Manta 

Identification
The giant manta ray has a widespread distribution in tropical and temperate waters worldwide. You will find them also in costal areas of Ecuador and Galapagos.
Each manta has a unique pattern of spots on its ventral surface (belly), which remains largely unchanged throughout their lives.
A photograph of the ventral surface (belly) is the most important, as it reveals the individual's unique spot pattern, and also shows the sex of the animal, which can be used to calculate proportions of males and females in the population.
Submit your photo here: www.mantatrust.org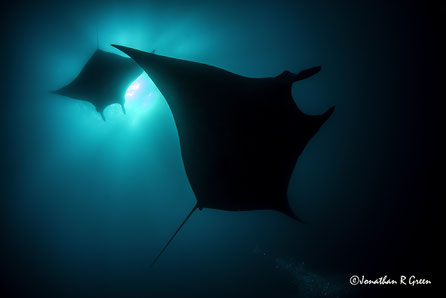 Photo: ©www.mantamatcher.org
Monitoring programs
---
Shark Count - Count Shark, Ray, Turtles, & Sunfish
Shark Count is a user-friendly tool / app that allows divers visiting Galapagos to help monitor marine life in the Galapagos Marine Reserve.
Using Shark Count, divers become "citizen scientists" and make important contributions to our understanding of Galapagos marine ecosystems by recording the sharks, sea turtles, rays and ocean sunfish they encounter during their dives.
The Shark Count app displays individual reports contributed from divers at the top 20 dive sites around the archipelago. Charts and maps show the number of species observed during each dive and the best sites and times to see each species.
All data is shared with the Galapagos National Park Directorate and will benefit research and management decisions focused on protecting the Reserve's incredible marine life.
Get the app now and start counting sharks, sea turtles, rays and ocean sunfish during your adventure in Galapagos for Apple OR Google Play.
More information: www.sharkcount.org
Our Galapagos Shark Conservation Dive Trips
---
On our Shark Conservation Dive Trips, divers collect data which furthers the understanding of sharks and other marine wildlife, get information to raise awareness about endangered species, whilst providing divers with the tools and know how to become participants in marine conservation and how they as individuals can make a difference.
Shark Experts:
Our team consist of Jenny Y Waack (founder of Galapagos Shark Diving®), Jonathan R Green (director of the research project Galapagos Whale Shark Project), Simon J Pierce (founder of the Marine Megafauna Foundation) and Sofia M Green (scientist of the Galapagos Whale Shark Project). One of the four shark researchers accompany every Shark Conservation Dive Trip. 
Education: 
On board the dive vessel you will get daily detailed information about the 'Galapagos Whale Shark Project', the Galapagos ecosystem, the oceans and marine wildlife. A variety of general presentations as well as Q & A will be held in the evenings with the hope that we can answer all the questions you might have about the Galapagos. We will also explain how the fieldwork is carried out and you will have the opportunity to see the satellite tags your donations have provided for. With presentations about the 'Galapagos Whale Shark Project', the Galapagos ecosystem, oceans and marine life, we create more knowledge and understanding for divers and non-divers. Understanding a species better helps us protect it. We believe that by education and inspiring people to protect our oceans we will create ambassadors who will work towards a better future for marine wildlife and their habitat.
Citizen Science: 
We will guide you as to how you can become a Citizen Scientist, not only during the trip but also how you can help with data and environmental issues when travelling or at home. With the data collected we support local, regional governmental and non governmental organizations to propose, create or expand existing marine protected areas. With the knowledge shared on board the ship our divers will travel with more open eyes to their next dive destination and can continue to make a difference there too.
Join our Shark Conservation Dive Trip and become a Shark Ambassador yourself. 
Our Commitment to Sustainable, Educational Dive Travel
---
We are incredibly happy to see that more and more people want to travel responsibly, and the mindset is changing. People now take a closer look at the dive operators they choose to travel with and start to have an awareness of the ecological impact their travel choices have on the oceans.
Galapagos Shark Diving is very proud to be taking part in fostering that change and being a pioneer for sustainable, educational dive travel. When travelling with us you choose positive impact dive travel, giving back to the oceans. Not only do we have the highest standards for ecological sustainability and responsible dive ethics but also make a direct monetary donation to Galapagos marine research for every single diver that travels with us. 
We started in 2017 on a very small scale, with just a few trips per year and were able to add more and more trips every year – we now even also offer the Cocos Islands/Indonesia trips (limited availability) in addition to our Galapagos trips. This is thanks to our loyal customers spreading the word about us! And for each diver we donate to the Galapagos Whale Shark Project, so the donation amount has grown tremendously increasing the amount of field work that can be undertaken each year.
Recently, we see our trips are starting to change the mindset some of the liveaboard operators in the Islands. The vessel we are working with has now switched to using metal bottles instead of plastic, (we used to have to provide the metal bottles for our guests) and now contributes a percentage of their profit to local research organizations – something other operators are also following! We believe we can open the eyes of dive companies who begin to comprehend the impact of their activities on the oceans and see that there is an increasing demand from tourists for sustainable eco travel.
Our Impact
---
Since we started our tours in 2019, divers from more than 26 countries have joined us. For every diver who traveled with us, we pledged a donation to the Galapagos Whale Shark Project. As of now, we have contributed more than 45,000 USD to support marine conservation efforts! We take immense pride in the amount we have donated and the valuable work that the research project is undertaking.
Learn more about the Whale Sharks that were tagged this past season in our blog post (Click here) 
How Can you Support Shark Conservation?
---
 You can share this blog post with your friends, you can talk about it and raise awareness, you can travel with us - learn how you can directly support research and shark conservation and you can donate directly to the Galapagos Whale Shark Project. Become a Shark Ambassador yourself and support the effort for a healthier ocean that we all need!
If you have further questions please do not hesitate to contact us. You can reach us at info@galapagossharkdiving.com. We are happy to assist you in any question you might have.