Travel FAQs, Booking Tips, & Planning Info
---
Are you ready to finalize your flights after booking your dive liveaboard adventure? Dive into our blog post for key insights on crafting your travel itinerary. We've included the most common questions we receive regarding booking travel but if we do not answer your question in this post, or you need further clarification, please do not hesitate to reach out. We recommend reading the entire article, especially noting the special considerations for traveling to the Galapagos, such as the two entry fees. Equip yourself with this knowledge to make planning your trip smooth and hassle-free!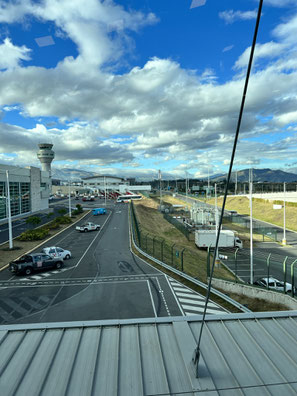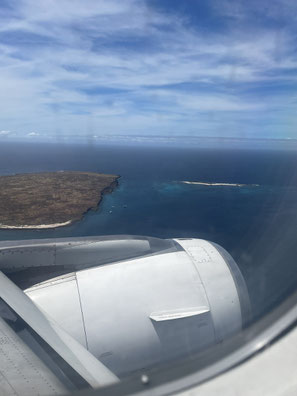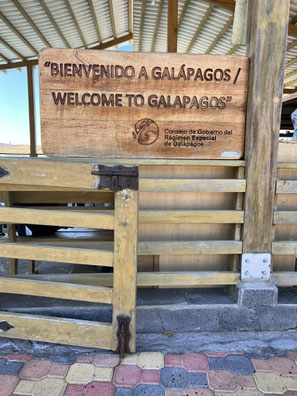 FAQs for Booking Your Travel to the Galapagos
---
Which International Airports are located in mainland Ecuador?
Which Airports are located in the Galapagos Islands?
*GPS is the airport where the dive guides will pick you up at 11:00 am on your liveaboard departure date
San Cristóbal Airport in Puerto Baquerizo Moreno on San Cristóbal Island (SCY)**
**Would only recommend flying into this airport if the flight options are significantly cheaper since it is a two hour ferry ride from Puerto Ayora in Santa Cruz to Baltra Port (where  the liveaboard leaves from) and the ferry only goes twice a day.
How long of a stopover do I need in the Quito or Guayaquil Airport before flying to the Galapagos?
You should schedule your flights to include a minimum of a 3 hour layover in Quito or Guayaquil. If possible, it is best to have a 4 hours or more to ensure that you are not stressed and have plenty of time to get your luggage, purchase your transit control card, re-check in for your Galapagos flight, use the rest room, and get some food. 
At what time should I plan to arrive in the Galapagos if my flight is landing on the same day that my liveaboard departs?
Passengers scheduled to arrive at Baltra airport (GPS) on the same day as their sailing adventure must ensure that their flight lands no later than 10:30 am (local time).
What is the earliest flight time I can book if I intend to depart on the same day my liveaboard experience concludes?
If you intend to depart on the same day your liveaboard experience concludes, please schedule a flight leaving no earlier than 12:00 noon (local time) from Baltra airport (GPS).
I have an overnight layover in Quito or Guayaquil. Which hotels should I stay in? 
We recommend a hotel that is close by the airport to avoid any traffic issues the morning leaving for Galapagos. In Quito the Wyndham Quito airport and in Guayaquil the Wyndham Gardens are both located only 5 minutes away from the airport. We can assist you in your hotel booking.
I will be arriving in the Galapagos Islands before my liveaboard sets sail, or extending my stay afterwards. Which hotels should I stay in? 
If you arrive earlier to the islands you will need a hotel in Puerto Ayora. We recommend the Galapagos Suites. The hotel is a family run and offers a high quality standard. It is located in a quiet area of town and still in the middle of the town centre. It is a 5-minute walk from the waterfront as well as a 3-minute walk from the Main Street where you can find many restaurant, tourist informations and other shops. We can assist you with the booking and might be able to arrange a transfer to share with other divers on your liveabord.
---
Galapagos Entry Fees, Biosecurity Screenings, and Affidavit of Goods
---
Upon entering the Galapagos, you are required to pay two mandatory entry fees. These fees play a crucial role in preserving the unique land and marine biodiversity of the Galapagos. Further details about these fees are provided below:
Transit Control Card (Tarjeta de Control de Transito - TCT)
$20 (cash only - US Dollars)
The kiosk/office where you buy these Transit Control Cards are located in the Quito or Guayaquil Airport. In both airports the booths are located on the second floor, in the domestic flights terminal. There can be a long line during busy times so we recommend that you plan to arrive at the airport a minimum of two hours before departure - just to be safe. Once you reach the front of the line you will provide your passport, flight information, nationality, date of birth, and cash ($20 US dollars cash) to the agent. They will enter the data in the system and hand you your card. The top half of your card will handed in once you arrive in the Galapagos and you will be asked for the bottom half when you leave so make sure to keep track of it during your stay. 
*You can preregister using the link below and selecting the Pingüino Explorer when it asks  for your vessel you'll be on:   https://siiws.gobiernogalapagos.gob.ec/siicgg_web/
Quito Hours of Operation: 5:00 am to 12:00 pm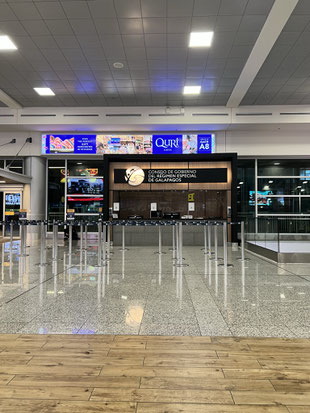 Guayaquil Hours of Operation: 6:30 am to 1:30 pm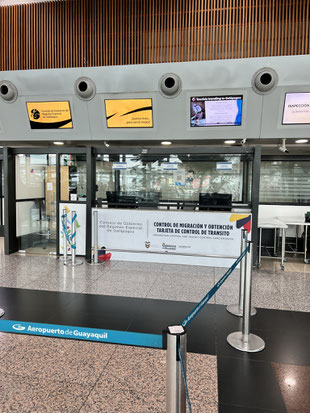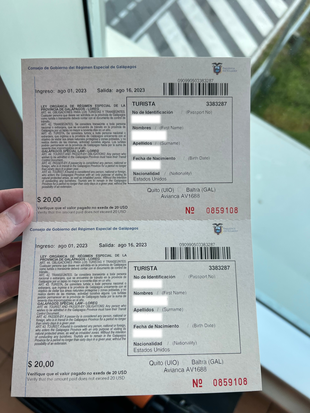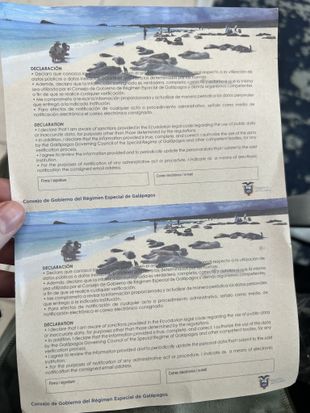 Galapagos Biosecurity Screening
After obtaining your transit control card, proceed to the biosecurity checkpoint. Given that travelers can unintentionally carry seeds or insects, Ecuador has implemented strict biosecurity measures for all air arrivals. At both the Quito and Guayaquil airports, every item of luggage, both checked and hand-carry, will be passed through a biosecurity x-ray screening.  Authorities inspect for live animals, plants, and seeds to prevent the introduction of non-native species to the islands. Next you may proceed to the airline check-in counter to check in for your flight.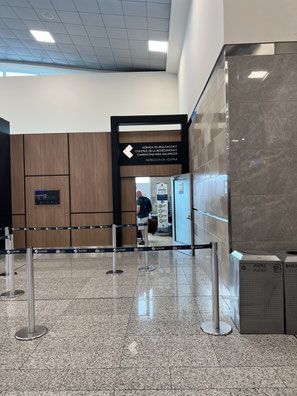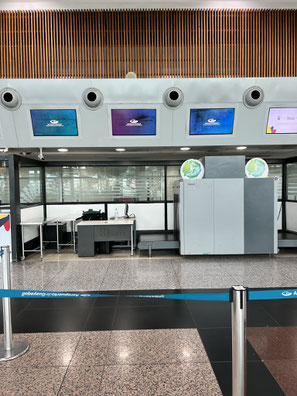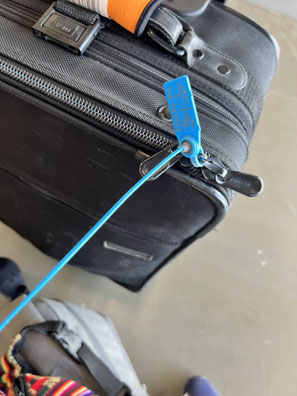 Affidavit of Goods
On your flight to the Galapagos, you will receive a Goods Sworn Declaration. Please fill it out accurately and hand it over to a biosafety Inspector upon your arrival in the Galapagos.
Galapagos National Park Entrance Fee
 $100 (cash only - US Dollars)
Upon arriving at the Galapagos Islands, all tourists are required to pay an entry fee. The standard rate for foreign tourists above 12 years is $100, while children are charged $50. Once you touch down in the Galapagos, approach the designated counter to present your passport, transit control card, and pay the applicable fee in cash  ($100 US dollars cash).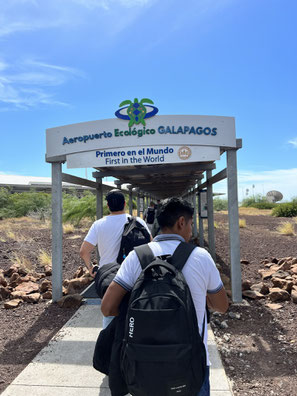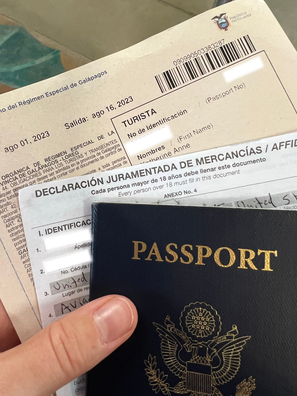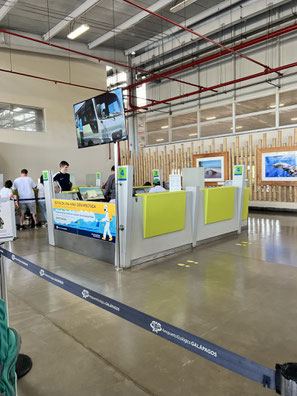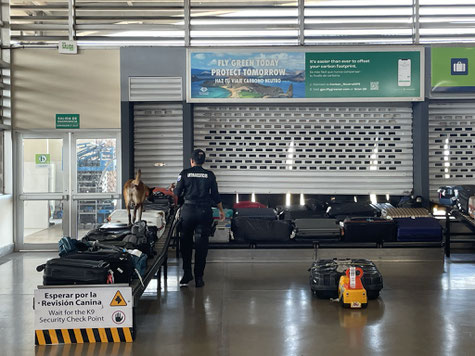 Following this, you'll move to the biocontrol section where you'll present your filled-out affidavit of goods. Your hand luggage will be inspected, after which you can proceed to retrieve your checked baggage. Upon exiting the airport, look for a dive guide holding a sign reading "Aqua", indicating the boat you'll board. This guide will escort you to a bus going to Baltra port. From there, a zodiac/panga boat will ferry you to the liveaboard boat.
If you arrive before your liveaboard's departure date, you can stay in Puerto Ayora. From the airport, two shuttles are available: one heading to Baltra port and the other to the canal Itabaca/town Puerto Ayora. You should board the shuttle going to canal Itabaca. Upon reaching the canal, you'll take a ferry across (note there's only one ferry). From the other side, buses and taxis are available to transport you to Puerto Ayora town. A majority of your co-passengers, around 90%, are likely heading to Puerto Ayora too. On the day your liveaboard sets sail, you should either return to Baltra airport by 11:00 am to join the rest of the group or directly head to Baltra port using a taxi.
If you have questions, please do not hesitate to reach out to us at info@galapagossharkdiving.com. 
Related Topics that you might be interested in: